Cuervo y Sobrinos has always chosen its own route to success rather than follow the well-trodden path of other brands. This culture even extends to how the company packages its products.

For many years, the prestigious marque has supplied its watches in a humidor made from cedar. Now, the brand has unveiled three new humidors that provide the ideal conditions for storing a watch or a number of fine Havana cigars.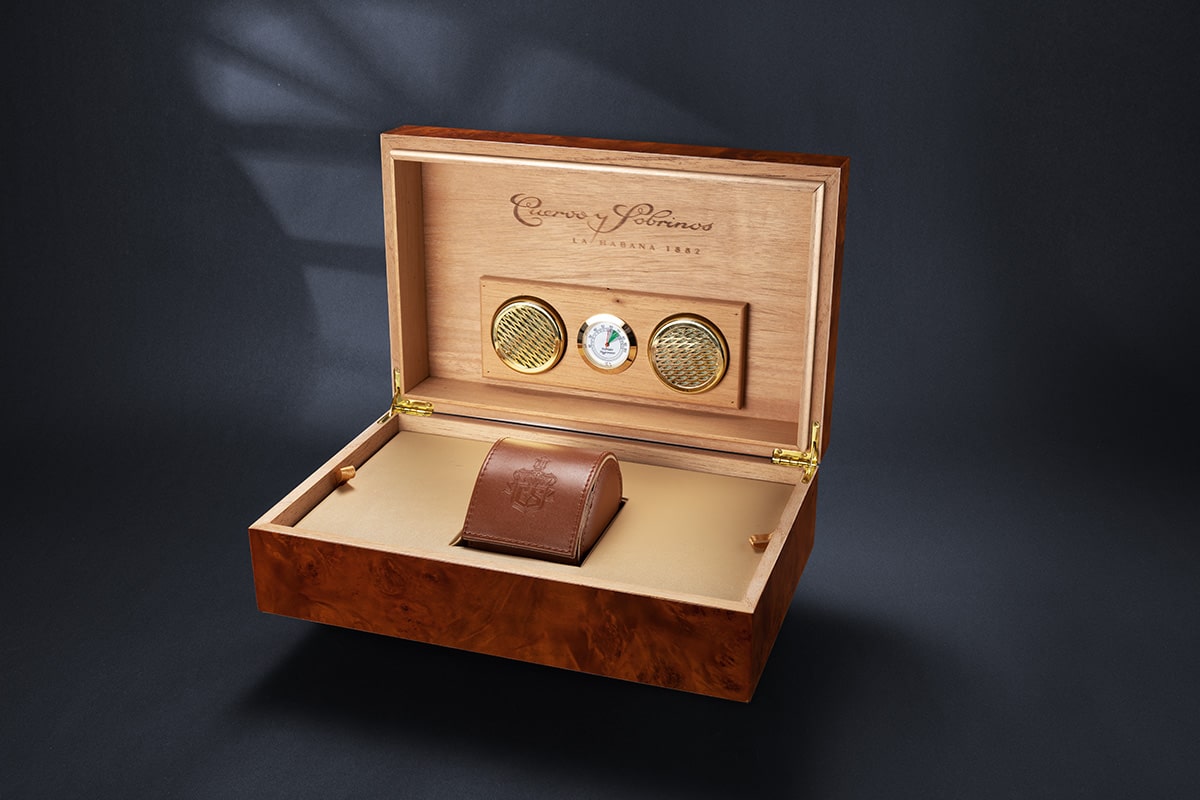 Cuervo y Sobrinos has created three new types of humidor to accompany each new timepiece. All boxes are made from Spanish cedar, a wood that is perfectly suited for preserving the tobacco and developing cigar flavours.
Original Humidor - PE100

The standard humidor delivered with every watches with a value above CHF2500 (taxes excluded).

Dimensions: L 325 x W 205 x H 96 mm
Humidor with Additional Strap Insert - PE110

The standard humidor with an additional strap insert delivered with strap and metal bracelet sets such as Buceador Caribe, Robusto Churchill "Sir Winston, Espléndidos Scott Jacobs, etc...

Dimensions: L 325 x W 205 x H 96 mm
Small Humidor - PE211-2020

A smaller humidor delivered with every watches with a value below CHF2500 (taxes excluded) or upon request.

Dimensions: L 160 x W 160 x H 102 mm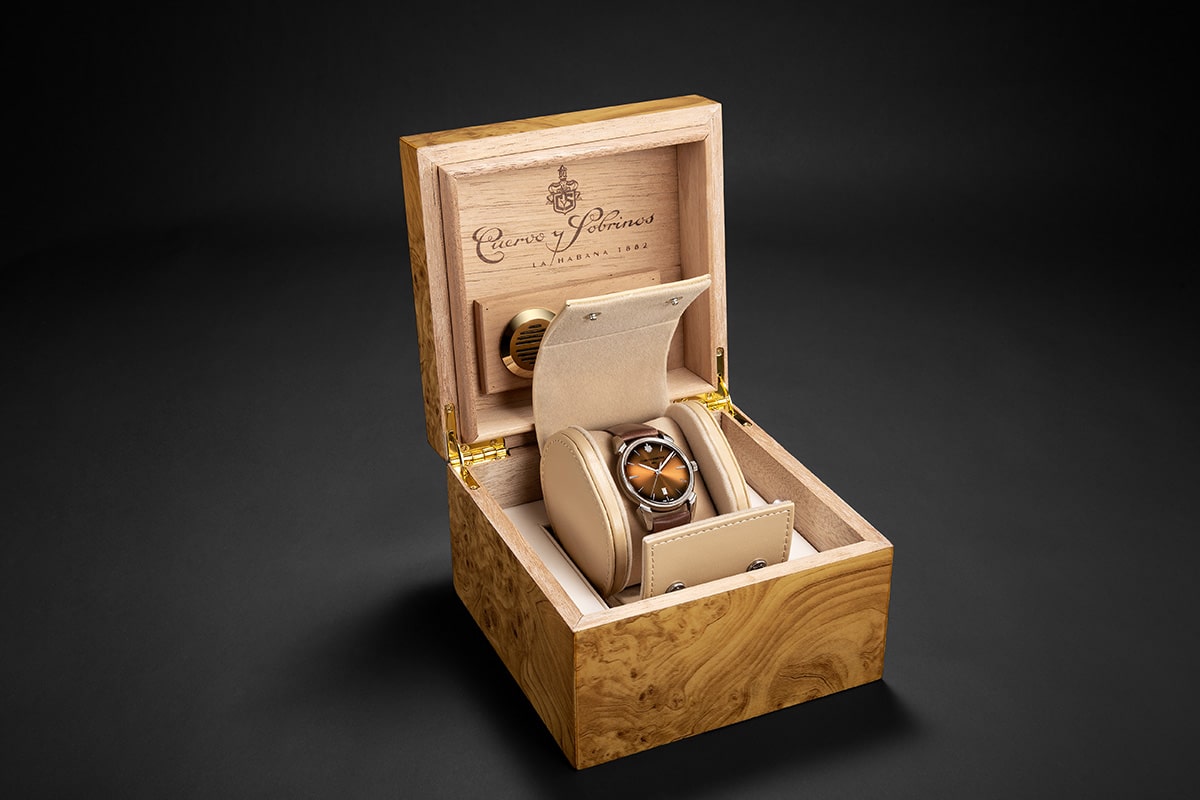 All too often a new watch is supplied in a box that will go on to spend most of its life languishing in the back of a cupboard. The packaging is usually retained as it remains an essential element should the owner wish to sell the watch at a future point.

Indeed, the box will significantly influence the watch's potential resale value. And yet, for most of its life, the box is unwanted, simply accumulating a layer of dust and annoyingly occupying space.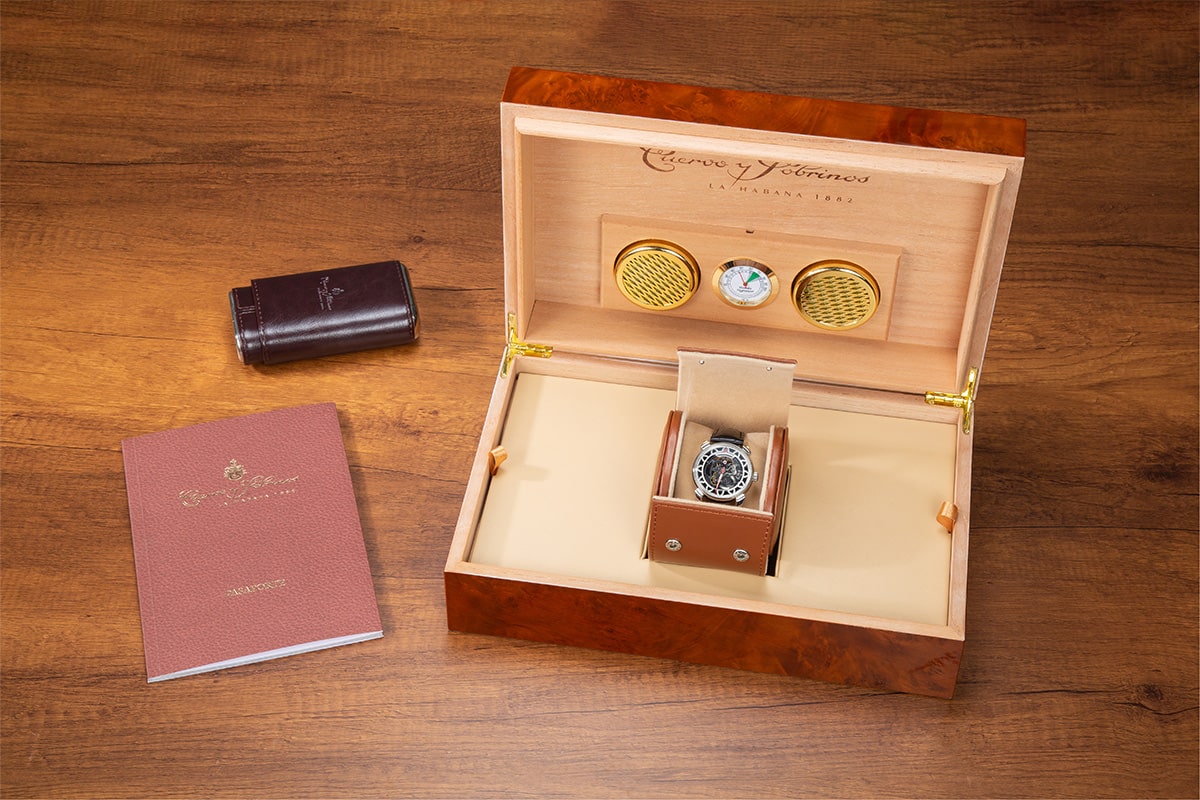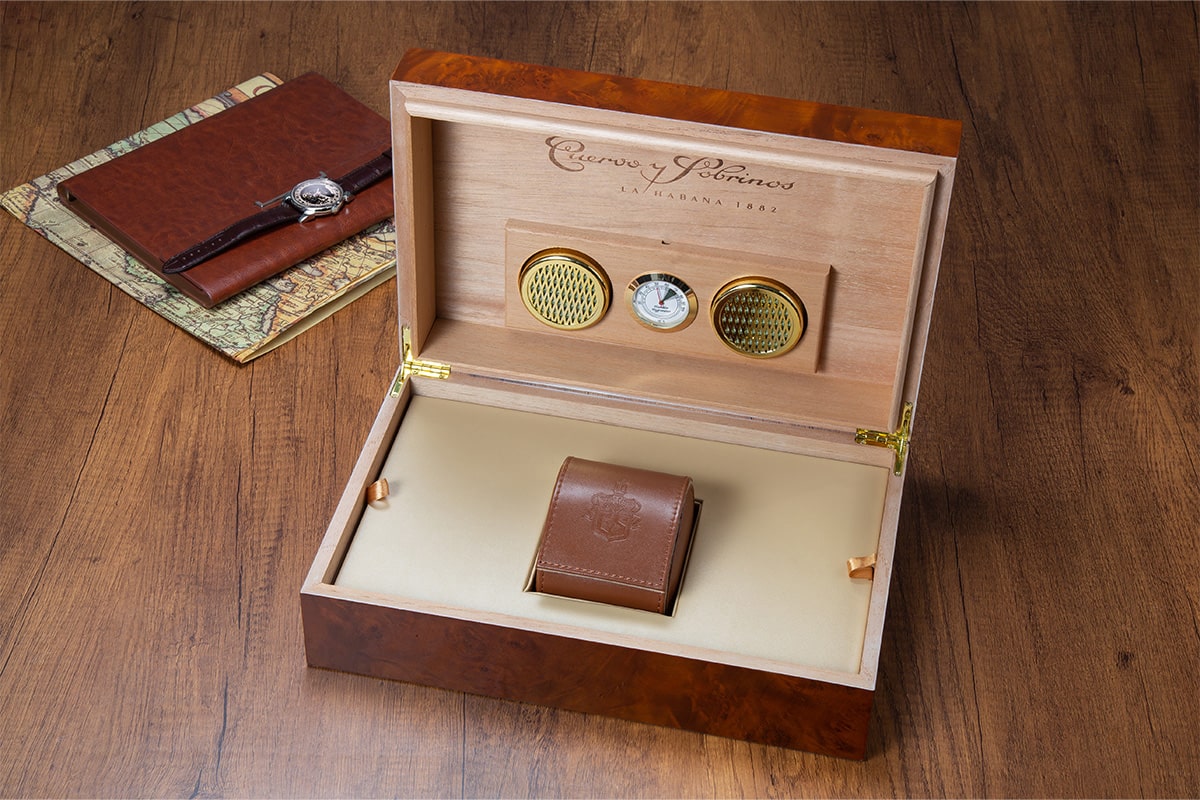 Cuervo y Sobrinos, the Swiss brand founded in Havana back in 1882, has always shunned the idea of unwanted packaging. Indeed, for many years the company has supplied its watches in a humidor.

This idea was inspired by another luxury product from Cuba, fine cigars. Moreover, Cuervo y Sobrinos has long since recognised that many of its clients have an appreciation for an exceptional Cuban cigar.
No adhesives are used, as these could adversely affect the taste and smell of the cigars. Each humidor is equipped with a hygrometer which clearly indicates the humidity of the air within the wooden box.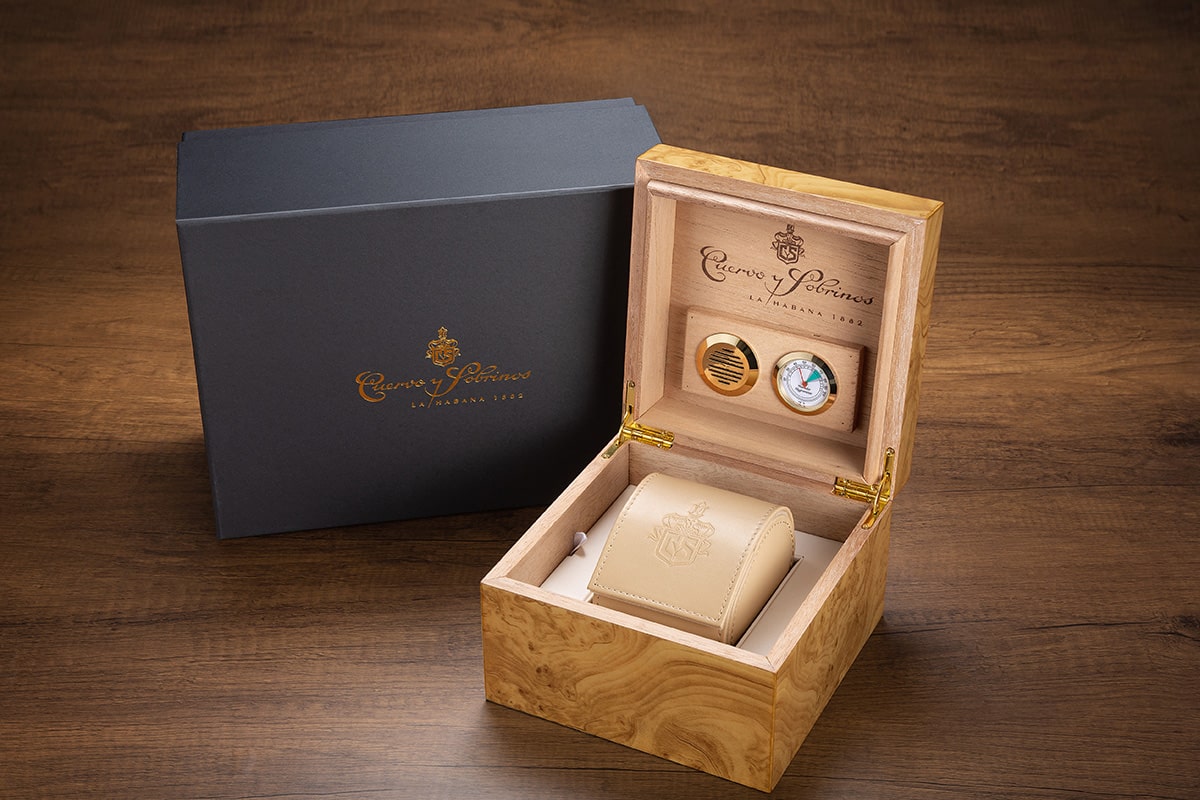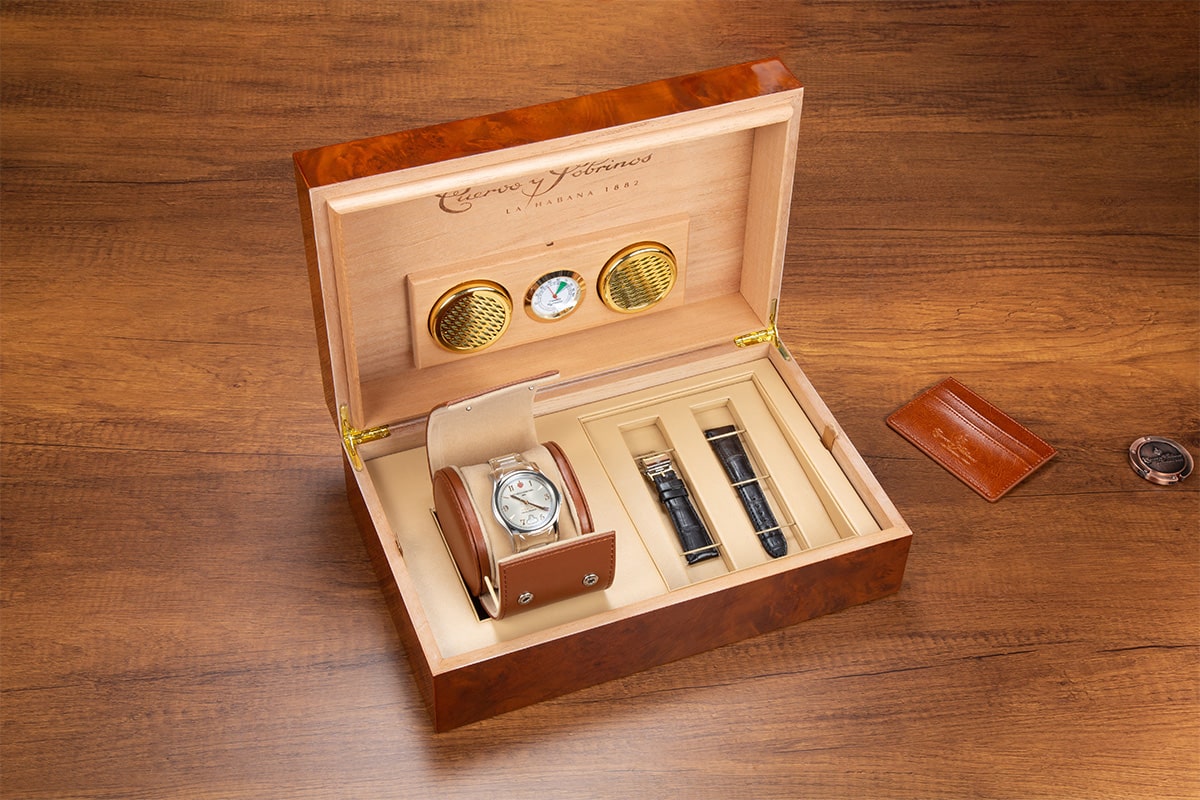 One box features a tray with a brown leather, removable watch pouch at its centre. The pouch proves ideal for regular travellers wishing to transport their cherished watch. The tray can be easily removed, allowing the box to be repurposed for cigar-caring duties.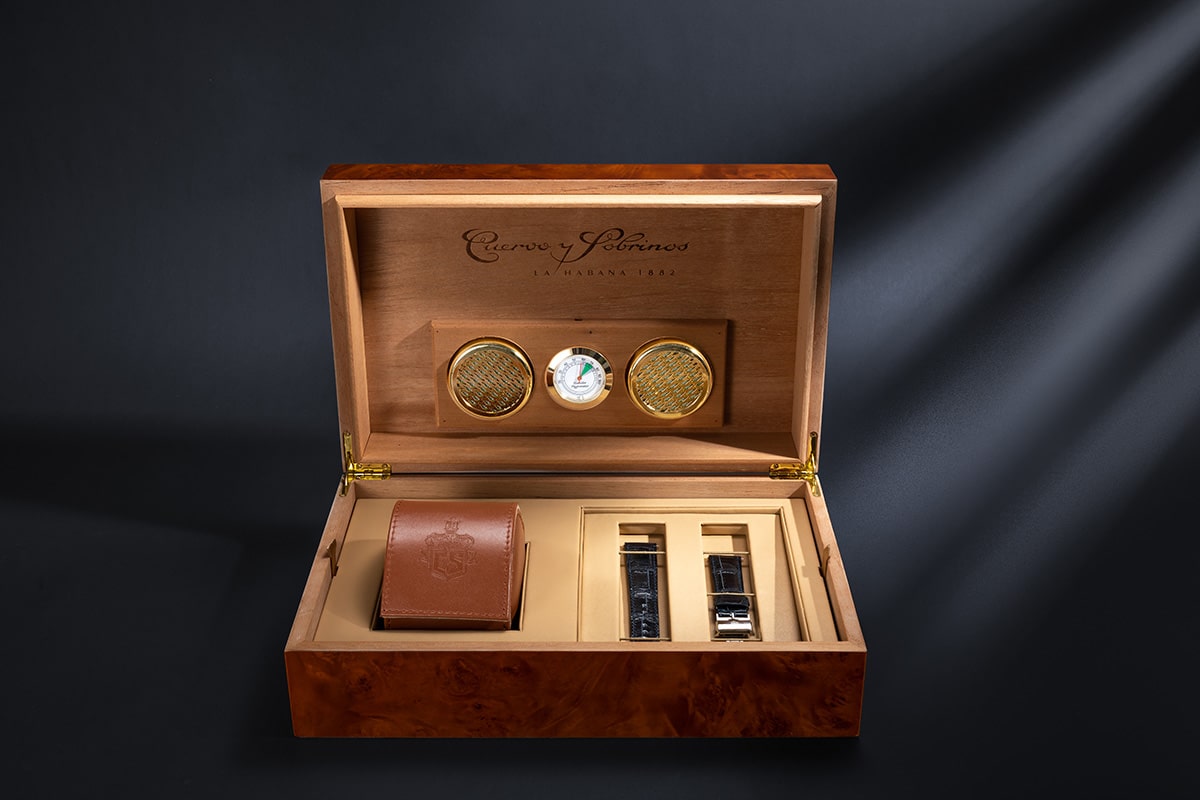 An alternative box, similar in design to the first, again features a brown leather watch pouch, but this time biased to one side. This allows room for an additional recessed section able to accommodate a second strap. This latter box is used for models such as the Buceador Caribe which comes supplied with two straps as standard. Again, upholding Cuervo y Sobrinos tradition, this box can also be used as a humidor.
In an era when society is thinking more about sustainability, Cuervo y Sobrinos believe packaging should be adaptable, allowing it to be repurposed and fully utilised. Furthermore, the new boxes demonstrate the brand's belief that luxury products should be respected and stored in ideal conditions.